Alexion Pharmaceuticals (NASDAQ:ALXN) shares have fallen over 15 percent since Tuesday due to another management shakeup. This bad news comes after Alexion shareholders were unexpectedly hit by news of an office raid in Brazil earlier in the month. Brazilian authorities raided Alexion offices in Sao Paolo due to allegations of sales malpractices.
Alexion shareholders just cannot catch a break; due to these two events occurring, Alexion shares are now trading near their 52-week low. However, someone's suffering is another person's joy in the stock market. I believe that the recent selloff creates a fantastic and rare opportunity for investors to invest in an oversold company.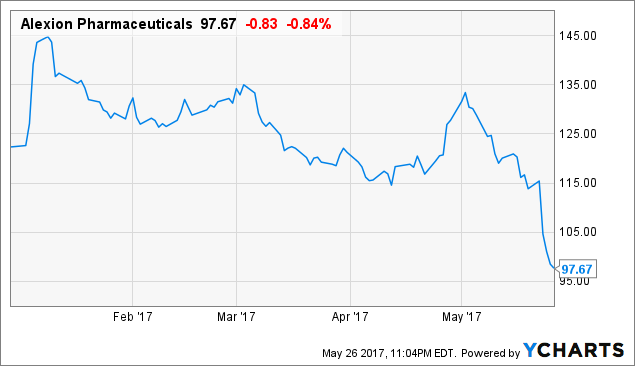 ALXN data by YCharts
The recent price action of Alexion has created the perfect buying opportunity. Not only is the Brazilian sales probe likely to not lead to any serious damage for the company, but the company management shift can be seen as a good thing long term. The CFO, CCO, head of research and HR head will all be leaving the company and be replaced by the end of June. This move to remove the rest of the executive management responsible for previous sales malpractices and the disappointing Synageva deal should be seen as a bullish thing.
Purging the company of those who were responsible for creating an atmosphere that allowed malicious sales practices is a good step for improving the integrity of the company. Getting rid of the people who were responsible for the Synageva deal, which turned out to be a complete fiasco is also a right step towards getting more competent people in charge. This shift in management also should not have been a surprise to anyone.
Ever since the sales investigation, shareholders have been trying to find scapegoats to pin the problem on. This move will further appease shareholders and is an important step towards bringing the company back on track. It is no coincidence that Ludwig Hatson, the CEO of ALXN, decided to replace the current CFO with Brian Goff. Hatson had previously served as the CEO of Baxalta with Goff serving under him. In the end, the duo were able to end the story of Baxalta with a happy ending by negotiating a $32 billion buyout deal with Shire (NASDAQ:S HPG).
I think it is a good idea for Hatson to bring in management executives whom he knows personally to have a proven history of success. The management shuffle is part of Hatson's plan and vision to turn Alexion around after the previous management failed the company. Starting fresh with a new management team is one of the best ways to put the company back on track and restore investor confidence. Obviously, the market has not reacted well to this news, but it makes no logical sense to sell now. The important fundamentals of the company have not changed at all.
Some people are saying that the drastic selloff is happening because the market is predicting that the management shift was done in advance before more bad news. It is speculative to assume that just because there is a leadership change, that there will be bad news to come. This move was most likely just the CEO shuffling his cards and options. If anything, this should be a positive indicator that the company is heading in a different direction.
The same thing happened with the Brazilian probe; there was a huge sell off when their offices were raided but the investigation is most likely hot air. Brazil's government is in turmoil and their president is facing single-digit approval ratings; they will do anything to make it seem like they are fighting corruption. Brazil's claims have no evidence to back them up and their raid of Alexion offices have failed to produce any results so far.
The Brazilian government has literally not given a shred of evidence to back up their claims before and after the office raid. Yet investors seem to be pricing in the worst possible situation. The worst-case scenario is that Alexion will settle, pay a fine, and have to sell Soliris under more strict regulator guidelines. It would not be the end of the world for Alexion if the worst scenario happened.
They would still most likely be able to sell the drug in Brazil and see sales growth. The management shakeup is not negative, the market seems to be making the assumption that the company will be worse off under different leadership. We will continue to see sales growth for Strensiq and Soliris, ALXN1210 will still continue to be developed, and Soliris for the treatment of refractory gMG is still on track for a possible approval. The new management does not change any of those positive facts.
While we understand investor unease that another 'shoe could drop' on this story, we see the risk/reward as compelling and believe the new management is making progress right sizing the company and refocusing its efforts.
Source: Matthew Harrison, Morgan Stanley
Morgan Stanley even upgraded Alexion's stock from equal weight to Overweight following the management change. They believe that the ALXN1210 patent extension strategy has not been priced into the share price and that the management shift is a positive thing.
Risk?
The main risk for investors who invest in Alexion is that they are investing in a company with the majority of their revenue coming from one drug, Soliris. The patent for Soliris will expire in 2020 in the European Union and 2021 in the United States. However, Alexion is doing something about this, they are trying to develop a new and improved version of the drug called ALXN1210. They are hoping that this will extend the market life cycle of Soliris.
The patent expiration is not an issue in the long term. I am more worried about the drug Omeros (NASDAQ:OMER) is developing currently that can soon rival Soliris. OMS721 is a drug designed to treat atypical haemolytic uremtic syndrome, a condition that Soliris is also meant to treat. This drug, if approved, could steal a significant amount of patients from Soliris. So far, they have passed their Phase 1 and 2 trials and are proceeding to a Phase 3 trial.
A rival treatment to Soliris will decrease the cost of Soliris due to pricing competition while also decreasing demand. OMS721 could have a better safety profile than Soliris due to its different mechanism of action and could treat patients who are not responsive to the effects of Soliris. Although there is not that much data out for the efficacy of OMS721 versus the efficacy of Soliris, the drug could be a major cause of headache in the future for Alexion shareholders. This will be a concern years from now though, if the situation changes in the future and OMS721 looks like it will be approved, I would not recommend holding Alexion shares.
Another risk is the possibility of the Brazilian sales probe uncovering something and Alexion being punished for it. This would cause a drop in Alexion's stock price but the sale of this life-saving drug in Brazil would most likely not be stopped. So far, there has been no additional news regarding the sales probe. Another risk is that there could be another scandal lurking around the corner; this is however a very speculative worry to have.
Conclusion
I think that I will probably pick up some shares of Alexion next week. If there are more scandals uncovered, the situation could change, but the situation right now for Alexion is not bad at all. The selloffs due to the management change and Brazilian raid were both unjustified and made no logical sense. I think Alexion is still a strong buy for sure. I have a price target of $125 in the upcoming months.
Disclosure: I/we have no positions in any stocks mentioned, but may initiate a long position in ALXN over the next 72 hours.
I wrote this article myself, and it expresses my own opinions. I am not receiving compensation for it (other than from Seeking Alpha). I have no business relationship with any company whose stock is mentioned in this article.
About this article:ExpandAuthor payment: $35 + $0.01/page view. Authors of PRO articles receive a minimum guaranteed payment of $150-500. Become a contributor »Tagged: Investing Ideas, Long Ideas, Healthcare, BiotechnologyProblem with this article? Please tell us. Disagree with this article? Submit your own.Follow Hudson River Capital Research and get email alerts