A few months ago, after AV Homes (AVHI) shares were down aggressively after its earnings call, we recommended investors buy the stock with a stop-loss at $14/share. We stated the following:
We think that $15.10/share is an important level for AVHI stock. That is where the strong uptrend lies, where we had a huge bullish volume, and where the exponential moving average for 200 periods is.
We recommend that investors enter into a long position, with a stop loss of $14. We believe that the investment is attractive from a risk/reward perspective.
Today, after a 24% increase in AVHI — outperforming the 3.3% return of the S&P 500 (SPY) and the 15.5% return of the iShares U.S. Home Construction ETF (ITB) — we are raising our price target from the $20/share stated in this article to $24/share. Here's what we said in that article:
Thomson Reuters gave a price target of $18/share for AV Homes. Our PT is $20/share, 17% upside from current levels, due to undervaluation on book value basis, higher growth through acquisitions, and its focus on baby boomers which make it less dependent on the overall economic activity than other homebuilders.
AV Homes is now trading at $20.15/share.
Our reason for the price target increase is the low expectations analysts are putting on the stock. On July 27, AV Homes will report its Q2 results. The market is expecting the company to generate $0.1/share in earnings. We believe that the bar is too low for AV Homes to pass.
Historically, AV Homes' profit margin stayed around the 1.57% level. If we assume a constant margin, at 22.44 million shares outstanding, the Street is expecting ~143 million in revenue. This is well below first quarter's revenue of $188 million.
We believe that there is no reason for revenues to decline 24% sequentially. Instead, we expect revenues to be higher this quarter as $18 million will be added from Savy Homes alone (the company had $72 million in revenues last year). Savy Homes was acquired by AV Homes few months ago. We believe that the acquisition of Savy Homes will have minimal or no impact on margins as the company operates in North Carolina, a state where AV Homes has a presence. Also, home prices are rising at a very fast pace, which will increase revenues further.
If the stock price remains at current levels until the end of the month and AV Homes beats the consensus earnings, as we expect, we believe that AVHI shares will increase significantly in value.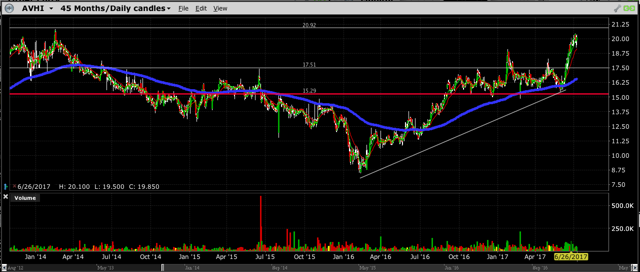 The next resistance level is at $20.9/share. Any close above this level will result in a significant upside momentum.
We remain long AV Homes heading into earnings. If AV misses, we will sell our stake. If it beats and the share price goes up, we will wait for the momentum to cool down and then sell our stake.
Note to readers: We invest in stocks that have significant value and are misunderstood by the public. While some of the stocks that we wrote about achieved their huge targets — like Vivint Solar (VSLR) (up 80% in four months), Chipotle Mexican Grill (NYSE:CMG) (up 25% in three months), and AV Homes (up 24% in four months) — there is no guarantee that other stocks will follow the same path.
Readers should also know that our approach can be painful and costly over the short term, as it takes a lot of time for the market to understand a neglected stock. We recommend readers and investors do their own due diligence and understand the argume nts of both sides before investing in any stock.
For updated articles on the stocks we follow, please click on the "follow" button.
Disclosure: I am/we are long AVHI.
I wrote this article myself, and it expresses my own opinions. I am not receiving compensation for it (other than from Seeking Alpha). I have no business relationship with any company whose stock is mentioned in this article.
About this article:ExpandAuthor payment: $35 + $0.01/page view. Authors of PRO articles receive a minimum guaranteed payment of $150-500.Tagged: Investing Ideas, Long Ideas, Industrial Goods, Residential ConstructionWant to share your opinion on this article? Add a comment.Disagree with this article? Submit your own.To report a factual error in this article, click hereFollow Celeritas Investments and get email alerts