Most likely, you already know about Blue Apron's IPO set for June 28th. Blue Apron (NYSE: APRN) is going public with a target price set between $15 to $17. This will put the companys valuation at between roughly $2.9 to $3.2 billion. Given the general hype around the company, the difficulty of finding good deals in the stock market and especially tech industry, as well as the overall large amounts of money sloshing around in markets, I would be surprised if APRN doesnt enjoy a solid opening day and perhaps a couple good few first weeks. However, as a long-term prospect, Ill be passing.
First and foremost, Im not a huge fan of Blue Aprons business model. Dont get me wrong, delivering ingredients to the door-side is an interesting concept. Offering recipes and making in-home cooking is also great. However, Blue Aprons costs to customers, approximately $10 per meal, puts it on par with many fast-casual restaurants that can offer similar quality foo d minus all of the effort to cook and clean. At the same time, its hard to see how Blue Apron can cut meal costs substantially. Selecting premium ingredients and delivering them to a customers door isnt exactly a low-cost model.
Meanwhile, Blue Apron already is facing rising costs, particularly in regards to marketing to new customers and retaining customers. Many customers will sign on for some free or reduced meals before deciding that the service simply isnt right for them. It appears that many of the customers excited about such a service offering have already found the company. As a result, marketing costs have steadily risen from less than 15% at the start of 2016 to over 25% currently. This is especially worrisome for me.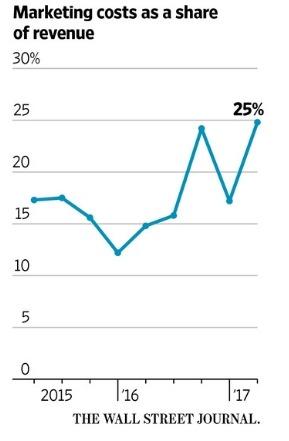 These rising marketing costs come as quarterly losses continue to mount. Quarterly losses arent particularly surprising for a tech company just launching an IPO, and Blue Apron actually managed to turn a profit in Q3 of 2016. To see the company turn any profits at this stage is encouraging, but for the whole year the company recorded $44 million in EBITDA losses. Worse yet, in the first quarter of this year, the company already has lost $46 million, though revenues did grow substantially. Revenues grew from $340 million in 2015 to nearly $800 million in 2016, which admittedly is quite tremendous.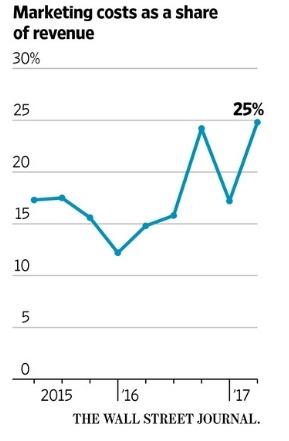 Blue Apron Will Be Operating in a Tough Environment
The financials worry me. However, what is even more worrisome, for me, is the market space Blue Apron is working in. This is conjecture, but I see few ways that Blue Apron will be able to maintain market dominance in the meal delivery market without continuing to spend heavily to acquire and retain customers.
Blue Aprons business model is not particularly unique. Subscription-based grocery services have been around for years, although usually they dont offer as fresh of food. However, numerous other fresh food competitors are already present in the market. Plated, Home Chef, Purple Carrots and other companies offering similar meal delivery services already are competing and offering aggressive customer signup efforts. Most of the reviews I saw while hunting around to try services point to Blue Apron being the best meals. I only tried Blue Apron, earlier in the winter, and while I enjoyed the service, I d idnt find the value to be enough for me to continue with it. Also, there is nothing that I can see that can be patented in Blue Aprons business model, and while entrant costs will be high, the overall exuberance in the technology sector suggests that competitors will be able to find investors.
Further, its worth mentioning that the recent Amazon (NASDAQ:AMZN)/Whole Foods (NASDAQ:WFM) match up could also be a big threat to Blue Apron. Amazon has made it clear that it wants to transition from being primarily a non-perishable good retailer (easy to shop most non-perishable products) to a one-stop shop for essentially every shoppers needs. Whole Foods will give Amazon brick and mortar stores across the country and access to a wide variety of premium healthy and organic foods. Meanwhile, the companys new Amazon Fresh service is promising fresh goods delivered to your door in a matter of hours. It may only be a matter of time before Amazon decides to st art selling recipe kits.
In the long run, I suspect Blue Apron will be bought out by a larger firm, such as Amazon or Wal-Mart (NYSE:WMT). This could produce substantial profits for investors if the deal is good, if the companys finances look healthy enough and future projections are strong. These are some huge ifs and given what I outlined above I wouldnt be willing to gamble on it. Blue Apron does enjoy a solid brand as well, and brands are very valuable in todays marketing driven knowledge economy. Still, for now the companys already high quarterly losses, competitive market, and worrying customer numbers means Ill be sitting out the Blue Apron IPO out.
Personally, Id recommend other investors sit this one out as well (or you even short the stock, but Im generally against shorting so count me out). This is especially true if the IPO enjoys an early spike and prices rise above the target offering. If so, I'd guess it to be more the result of rampant speculation rather than any true underlying value.
Disclosure: I/we have no positions in any stocks mentioned, and no plans to initiate any positions within the next 72 hours.
I wrote this article myself, and it expresses my own opinions. I am not receiving compensation for it (other than from Seeking Alpha). I have no business relationship with any company whose stock is mentioned in this article.
About this article:ExpandAuthor payment: $35 + $0.01/page view. Authors of PRO articles receive a minimum guaranteed payment of $150-500.Tagged: Investing Ideas, IPO Analysis, TechnologyWant to share your opinion on this article? Add a comment.Disagree with this article? Submit your own.To report a factual error in this article, click hereFollow APAC Investment News and get email alerts