After the close, Box (BOX) reported mixed quarterly results. The stock is initially trading down on a minor revenue miss and cash flow concerns highlighted by CNBC.
The stock was trading close to the initial post-IPO highs so a great quarter was likely needed to send Box higher. The question is whether some of the concerns are a reason to avoid the stock that has been one of our recommendations this year.
The reason to like Box is the consistent revenue growth that as sat around 30% lately. As well, the company has strong partners in Microsoft (MSFT), IBM (IBM) and Alphabet (GOOG, GOOGL) that aligns Box with the tech giants that aren't trying to take over every aspect of the world.
The market will focus on revenues missing the $124.3 million target by $1.4 million. The reality is that Box grew billings by 31% to $139.5 million and deferred revenue by 32% to $240.8. Billings growth was 31% in the prior quarter so the content management company isn't seeing any slowdown in this metric like growth. Both metrics are phenomenal and signal substantial growth ahead.
As the market has become more focused on earnings and especially cash flows in the case of a cloud content management firm, the FQ2 results will cause short-term consternation. Box reported that cash flow from operations dipped $9.5 million and free cash flow fell $14.7 million. Both numbers were more than double the levels of last FQ2 and ended the trend of two quarters of positive cash flows.
The market just isn't happy with money-losing operations and especially ones headed in the wrong direction. Box reported an improved net loss, but the free cash flow margin got larger at negative 12%.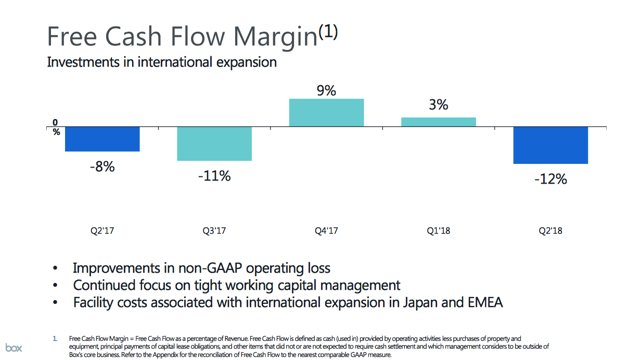 Source: Box FQ2'18 presentation
The company suggests timing issues are the cause for the typical dip during FQ2 and still forecasts achieving cash flow positive for the year ended January 31, 2018. The market though will initially provide a dip opportunity as questions always pop up in these scenarios where margins dip whether temporary or not.
While the market is contemplating the company's ability to achieve cash flow goals, the stock is exceptionally cheap. The stock has now dipped to only an EV/sales multiple of 4.8x forward expectations.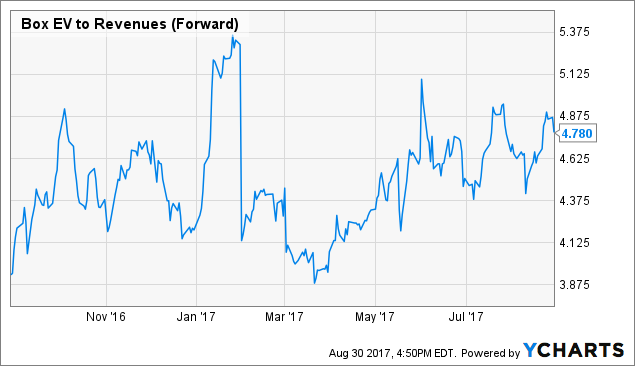 BOX EV to Revenues (Forward) data by YCharts
Box only has a market cap of $2.5 billion as revenues look to top $500 million this user. The key investor takeaway is that the market is missing a consistent grower trading at a reasonable multiple.
Disclosure: I/we have no positions in any stocks mentioned, and no plans to initiate any positions within the next 72 hours.
I wrote this article myself, and it expresses my own opinions. I am not receiving compensation for it (other than from Seeking Alpha). I have no business relationship with any company whose stock is mentioned in this article.
Additional disclosure: The information contained herein is for informational purposes only. Nothing in this article should be taken as a solicitation to purchase or sell securities. Before buying or selling any stock you should do your own research and reach your own conclusion or consult a financial advisor. Investing includes risks, including loss of principal.
About this article:ExpandAuthor payment: $35 + $0.01/page view. Authors of PRO articles receive a minimum guaranteed payment of $150-500.Tagged: Investing Ideas, Long Ideas, Technology, Application SoftwareWant to share your opinion on this article? Add a comment.Disagree with this article? Submit your own.To report a factual error in this article, click here