U.S. equities finished mixed on Friday, a quiet end to what was an exciting and volatile month. In the end, the Dow Jones Industrial Average gained 0.3%, the S&P 500 gained 0.2%, the Nasdaq Composite lost 0.1% and the Russell 2000 lost 0.1%. Treasury bonds weakened, the dollar was slightly stronger, gold lost 0.3% and oil climbed for the seventh straight session up 2.5%.
Breadth was slightly positive 1.6 to 1 with volume at 94% of the NYSE's 30-day average. Industrials led the way with a 0.8% gain thanks to strong performances by construction/engineering, defensive and aerospace stocks while utilities were the laggards down 0.1%.
Nike Inc (NYSE:NKE) was a rare spot of excitement, up 11% on a fiscal fourth-quarter earnings and revenue beat driven by North American sales. Forward guidance was strong as well. Blue Apron Holdings Inc (NYSE:APRN) fell 6.6% in its second day of trading to fall below its $10 IPO price.
And on the economic front, the core PCE inflation rate came in at 1.4% year-over-year in its lowest annual reading since December 2015 (when the Federal Reserve started its rate hike campaign). This represents a loss of momentum, as the measure was approaching the Fed's 2% target earlier in the year, with January and February coming in at 1.8% before dipping in March amid a recent bout of energy price weakness.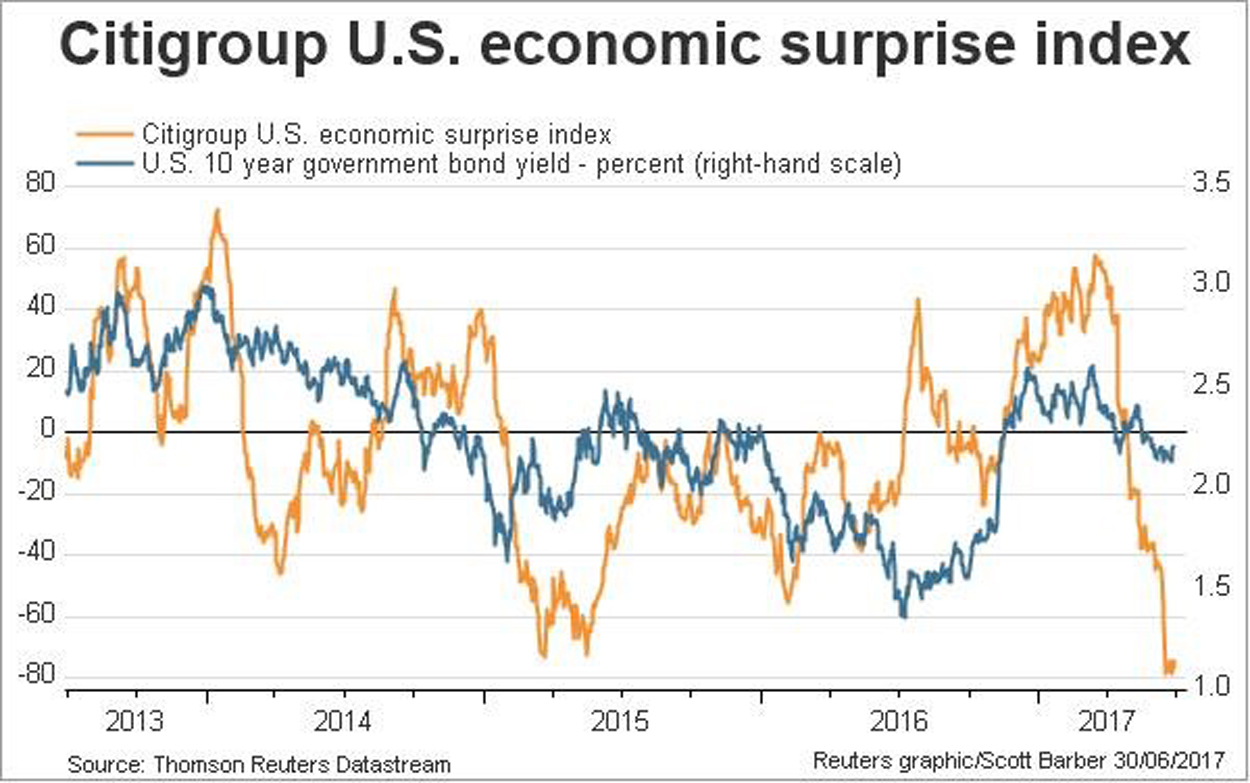 Also pointing to some softness in the economy was a rise in the personal savings rate to 5.5% of disposable income versus 5% in April. That's the highest rate since September. The Citigroup Economic Surprise Index remains at its lowest level since 2011, as the data consistently misses analyst expectations.
Conclusion
Overall, the post-election trading dynamic broke in June with the tech-heavy Nasdaq posting its worst month since October — breaking a seven-month winning streak — by falling 0.9% on the back of a selloff in the "FAANG" stocks.
Over the past week, there's been a marked increase in Fed hawkishness as policymakers grow frustrated at an easing of credit conditions lately (despite their policy tightening) driven by a drop in long-term yields and rising stock prices. That's resulted in lower long-term Treasury bond prices and lower stock prices, pressuring so-called "risk parity funds" that depend on the fact stocks and bonds normally trade in opposite directions.
These funds lost 1.6% in June, the first decline since November.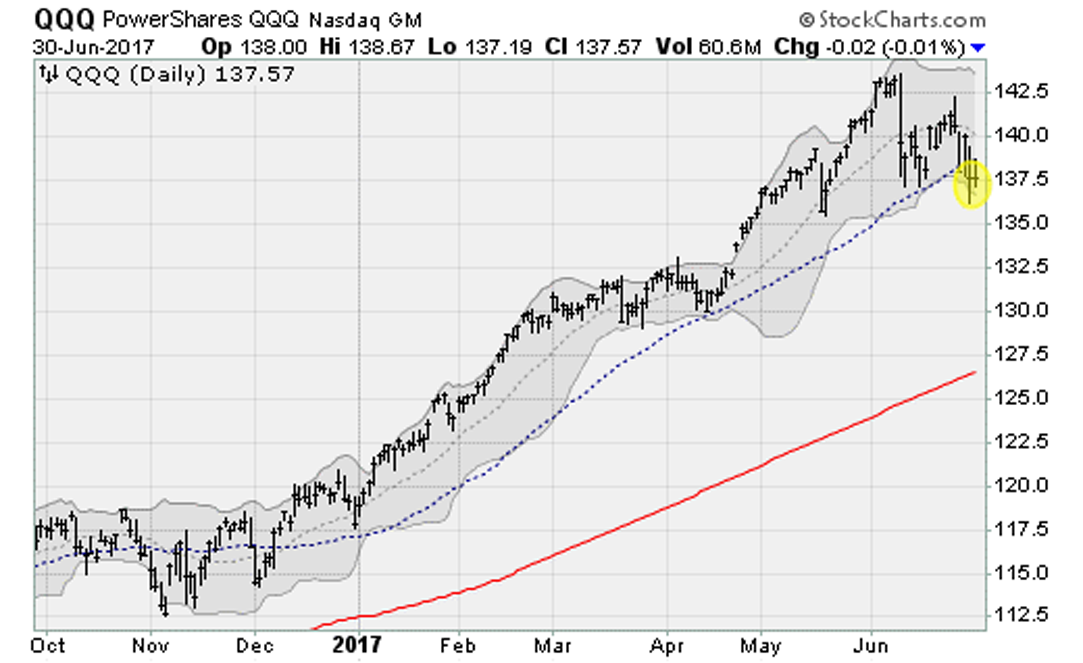 Heading into July and the summertime trading doldrums, policy risk is rising in a big way. President Donald Trump is reportedly mulling a trade war with an import tariff on steel. And the Fed appears determined to start a balance sheet rolloff in September.
All this, plus the fact that we're in the midst of the weakest period of market seasonality (peaking in September and October), suggests we could see some downside extension with the Nasdaq closing below its 50-day moving average for the first time since December.
Today's Trading Landscape
To see a list of the companies reporting earnings today, click here.
For a list of this week's economic reports due out, click here.
Anthony Mirhaydari is founder of the Edge (ETFs) and Edge Pro (Options) investment advisory newsletters. A two-week and four-week free trial offer has been extended to Investorplace readers.