Today's volatility in the markets will likely have some investors on edge as Petroleo Brasileiro AKA Petrobras (NYSE:PBR) is reporting earnings after the bell today.
Earnings Bear case
The current price of oil at $47.25 is causing pressure in the markets, Petrobras needs oil in the $60s to really turn the balance sheet around.
I expect they will have mixed results as the company works to settle lawsuits from the car wash scandal. If Petrobras misses on the top and bottom line; I expect a gap down to the $7.50 level.
While I believe Petrobras is a good long term buy here; I see the potential for more downside in a sell-off like the market is witnessing today.
Here is a chart to see potential support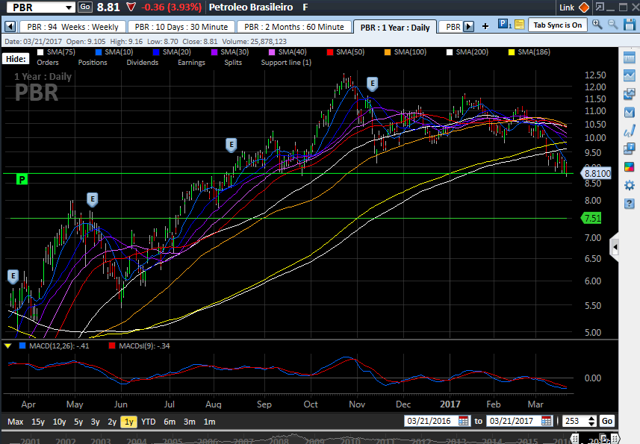 Investors can see the fantastic rally the stock has enjoyed the last year as it came back from the brink due to scandals and the collapse in oil prices. The stock needs to hold this $8.60 level or the second green line is the next level of support. I Bought some yesterday, faded a little this morning and bought a little more at $8.70.
Bull Case
Petrobras meets or exceeds expectations and announces a big asset sale. The recent announcement by the company of a 10% price increase should be a huge benefit to the company's cash flow going forward.
With a beat I see the stock gapping over $9 and going from there. One caveat: oil needs to bottom and move back into the $50s for the spring driving season.
On March 15, the Federal accounting court repealed a preventative order that was blocking new asset sales by the company. You can view the statement in its entirety here.
Here is a clip from the company's website.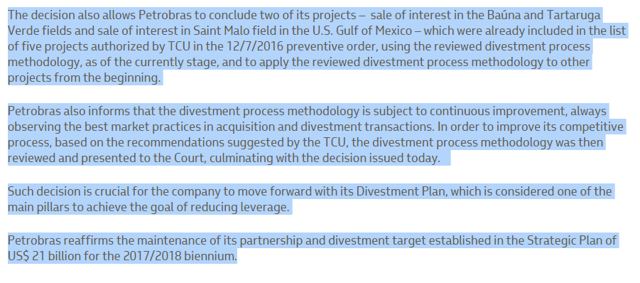 Positive production numbers
Petrobras is nearly a 2.8M boe producer and is continuing to lower costs across the board. The corruption that scandal that nearly ruined the company and the government is being cleaned up and Petrobras is going to be a much stronger company in the long term.
Debt management is crucial going forward, the ability to sell assets this year is a key component needed this year to reduce leverage. recently granted by the court will be a big positive going forward
Conclusion
Petrobras is in a crucial price zone going into earnings, the market is volatile today with oil trying to break $47. Owners of the stock could protect themselves with puts or selling covered calls.
Tomorrow's EIA numbers could mark the bottom of this down cycle with a big draw confirming last week's move. If there is a larger than expected build then oil could test the $45 level.
I like Petrobras on this selloff, however I believe dow nside risk of 12% to 15% are a possibility. I encourage investors to listen to the conference call paying attention to free cash flow.
As always do your own research and know your exit point before making any trade.
Disclosure: I am/we are long PBR BP, LYG.
I wrote this article myself, and it expresses my own opinions. I am not receiving compensation for it (other than from Seeking Alpha). I have no business relationship with any company whose stock is mentioned in this article.
About this article:ExpandAuthor payment: $35 + $0.01/page view. Authors of PRO articles receive a minimum guaranteed payment of $150-500. Become a contributor »Tagged: Investing Ideas, Long Ideas, Basic Materials, Oil & Gas Drilling & Exploration, BrazilProblem with this article? Please tell us. Disagree with this article? Submit your own.