It's well known that the brick and mortar retailers are suffering in today's ebullient markets. The internet is changing the way we shop. And, it's changing the way we dine as well, giving a twin abysmal effect in the restaurant world. People today are seeking a generous serving of digital experience with their meals as well as their merchandise.
A man with some thoughts on this digital-tom-foolery/food thing is the guiding light behind what has to be considered the most successful restaurant chain of our time. This outfit has seen its stock do over a ten fold gain the last seven years since Jim Cramer first recommended him as "bankable". I am referring to Patrick Doyle of Domino's Pizza, what Cramer has called a technology company that also happens to sell good pizzas.
From the Mad Money of 3/6/17, Jim Cramer interviewed Patrick Doyle, CEO of Domino's Pizza after they reported yet another stunning quarter from the badly suffering restaurant group. Cramer ask ed him about what he has dubbed the new stay-at-home economy, despite growing disposable income, and how Domino's is beating this new attitude. Doyle then relates how Domino's has used the new digital age and everyone's fascination with it to deal with what he sees as the "new" consumer, telling us that fully half of the staff at the home office of Domino's are technicians that oversee the new order options where hungry customers simply order food while on Facebook, Google, Netflix, or whatever. Cramer just shakes his head at this. As for "getting out" foot traffic, the traditional life blood of restaurants, Doyle sees a great new divide now developing in consumer-land. In his words from the interview:
I think what's happening, Jim, is there is a great convenience now … what you're seeing is people still clearly go out, but it's got to be special. There's got to be something in a restaurant or retailer that's drawing people in, that's giving them this experience that's different than simply going in and buying … In restaurants, if you're giving someone a really special experience, then I think you're going to continue to drive traffic into your restaurant … I think if you've got a restaurant that's a sit-down restaurant that's not doing something really special, then I think you're going to hurt."
Doyle noted that his company is one of the few that has gone from a majority over-the-phone to a majority digital operation. "That's not a long list" he said. Cramer responded, "It's not a long list, and you are at the top of it."
Investors tend to think of Domino's as the great leader in this march of eateries into the new digital entertainment world. But there is a much more obscure name that perhaps is even more of an example of this powerful revolution, and seems to be exactly what Patrick Doyle was talking about in the above quote. That name is Dave and Buster's. You've probably heard of them because they've been around since 1982, went public in 1995 and were taken private in 2005.
In October, 2014, they have resurfaced as a public company again with a new mission and the name Dave and Buster's Entertainment, Inc. with the Nasdaq symbol PLAY. And play is what now sets them apart – digital play. About half their typical store floor space is the latest a nd best digital arcade games. They renew about 10% of their games each year at a cost of about 2% of their sales. These videotronical games seem like so much foolishness to me, and I've never wasted a moment of my time with one. But I've learned to never underestimate how popular they are with everyone else and I take their investment implications quite seriously.
Dave and Buster's does the big screen TV sports thing as well, even being a corporate sponsor of the UFC. But from Buffalo Wild Wings to my neighborhood Applebee's, you see the bar/TV thing everywhere these days. It's the games that now are making Dave and Buster's "special" to those cocooned in the house, and as Doyle said above, this is drawing them out. How does all this show up in their results? Well, it has propelled them to an industry leading Average Unit Volume – and the games are why: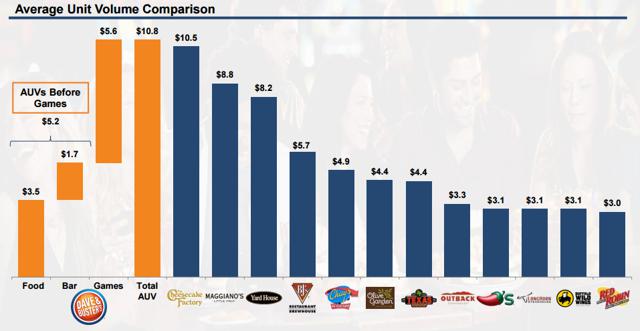 (Source of all results images: Investor presentation)
The 2% of sales going to buy the games each year is well worth it as it sends the unit volume soaring past virtually all of their competition. Soldier of Fortune at Seeking Alpha has an excellent article titled "Press PLAY On A Dave And Buster's Investment" from back in November, 2015 showing these investor presentations by the company – just about a year after PLAY began trading. The stock has gone from $37 to $60 since then. Mind you this was precisely during the big swoon in both retailer and restaurant stocks since late 2015. And this has everything in the world to do with Cramer's stay-at-home economy, a corollary to his FANG acronym (Facebook, Amazon, Netflix, Google) he invented some four years ago. Jayson Lusk, a food and agri economist has a blog where he describes the Restaurant Performance Index comparing it to food spending away from home:
Here we see the tale of woe for the eateries starting in mid 2015 – about the same time when PLAY's results went ballistic: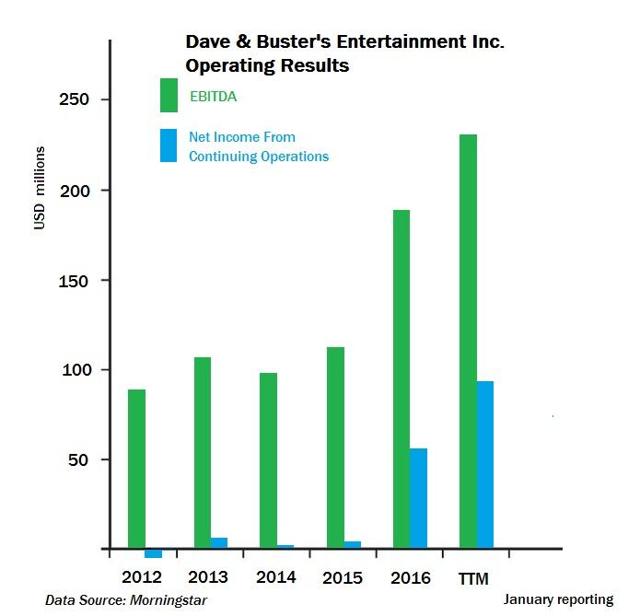 The "spending away from home" in the previous chart appears to be stampeding away from restaurants in general and into Dave and Buster's – a clear case of highway robbery in market share. And the same could be said of Domino's, which has a TV ad out now imploring customers to not deal with them by phone anymore, even smashing, with a crane, a big box with a phone image shown on it. Deal with us by the internet, they demand in the ad.
The growth shown above remains pretty cheap with just a 2.7 multiple on the revenue and just 10.8 on the cash flow from operations, whose growth looks similar to the EBITDA cash flow. Forward PE is 24.8 per Morningstar numbers.
The results at Dave and Buster's really began peeling away from the restaurant group in 2013 while they were still a private company: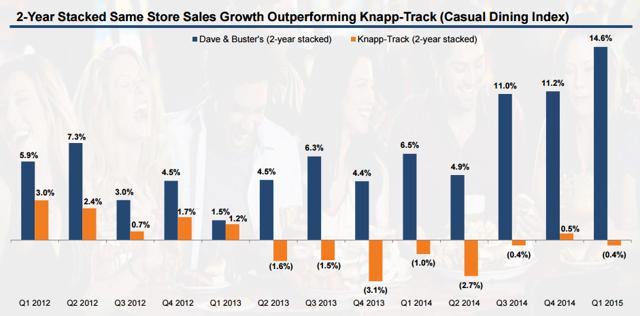 I suspect this was a prime reason for the public offering of PLAY in October, 2014. It was almost like offering a new public equity launched into a new growth story – just what IPO lovers like. And they are in the fast growth part of the curve geographically, having a fraction of the store count of most major chains, just 1.7 stores per state.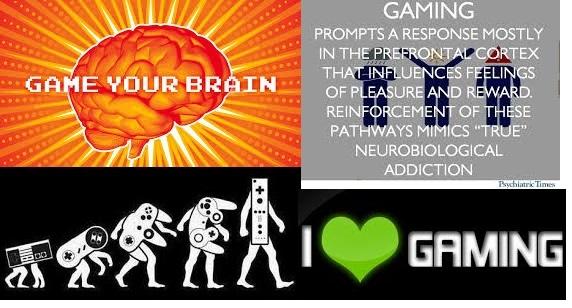 If the digital traffic draw is such a good idea, why won't everybody be immediately do it? Well, the gradual use of about 2% of sales to refresh 10% of their games each year has produced something of a competitive moat for Dave and Buster's. Each of their stores has about 150 games. And Soldier of Fortune gives this estimate:
Any competitor wishing to enter the space at any sort of scale would be facing a massive capital outlay (I estimate $165-175 M) in order to match Dave and Buster's gaming arsenal.
And as if to play dealer's advocate to the gaming junkies, they dispense:
… a pre-loaded card that one swipes to play a given game, removing the headache associated with keeping track of the coins to play with and the paper tickets won. Importantly, this is an experience that is not easily replicated at home (or at a competitor, for that matter) – most people/restaurants don't have even one full-size arcade game, much less 150+ to choose from.
For their part, Domino's has, the last seven years or so, made the massive investment to make half their main office workforce internet technicians. It would be a stretch for any competitor to suddenly make that change.
The games habit is high margin. It produces a gross margin of 86% vs 73.4% for their food and a combined average total store gross margin for their nine chief competitors of 71.3% (2015 figures). Clearing away some bookkeeping issues and just looking at EBITDA margins:

You could say that all this videotronical stuff is just a two year fad with the kids. But be careful. You're calling Cramer's FANG and Doyle's "new convenience" a fad, and will probably wind up looking like those that called the horseless carriage and telephone fads. I think "paradigm shift" is not too strong a description.
Disclosure: I/we have no positions in any stocks mentioned, but may initiate a long position in PLAY over the next 72 hours.
I wrote this article myself, and it expresses my own opinions. I am not receiving compensation for it. I have no business relationship with any company whose stock is mentioned in this article.
About this article:ExpandTagged: Investing Ideas, Long Ideas, Services, Restaurants, SA SubmitProblem with this article? Please tell us. Disagree with this article? Submit your own.