On the surface, Valeant Pharmaceuticals (VRX) has an intrinsic value of over $50 a share but very recently, the market is considering more bearish scenarios. Instead of pointing to the debt reduction ahead of schedule, revenue improvements at both Salix and B+L, shareholders should consider the upcoming catalysts ahead.

Valeant launched SILIQs (brodalumab) in July. The drug, which treats patients with moderate-to-severe plaque psoriasis, is the only product that targets IL-17 by blocking receptor A. The product demonstrates a 100 percent improvement with a success rate of over 50 percent. The drugs success rate is based on three clinical trial data. Notably, the company renamed its dermatology unit to Ortho Dermatologics and installed new senior leadership. The re-branding is akin to Research in Motion renaming itself to BlackBerry Limited (BBRY). BBRY shareholders will know first-hand the new name did nothing to change anything. But Valeant has a better chance of success. If the dermatology drugs, led with SILIQ, does what it promises, revenue will grow and profits will improve.
Risks
SILIQ faces two immediate headwinds. Sales after the drugs launch could stall due to seasonality. Doctors and patient care may slow during the summer months. Competitive pricing and gre ater patient access will offset this slowdown. Through this month of September, the seasonal slowdown ends. That is when the $3,500 monthly pricing and rising patient access will act as positive catalysts for drug sales.
SILIQs Black Box warning for risks of suicidal ideation and behavior is another headwind for sales in the immediate term. Greater physician training and education from the sales team may offset safety concerns.
SILIQ's Competitive landscape
Treatment options for eczema, a related disease to psoriasis, may help investors forecast the revenue potential for SILIQ. Last year in December 2016, Pfizer (PFE) received FDA approval for EUCRISA (Crisaborole), a non-steroidal ointment for eczema treatment. The drug costs around $700 for a 60g. Of the 26 reviews posted, the average rating is 7.3:
Source: Drugs.com
Some patients complained of a burning sensation when applied, while others complained of the drugs lack of effectiveness.
Regenerons (RGEN) Dupixent, which is co-marketed with Sanofi (SNY), cost $37,000 annually initially. More recently, patients may pay $23,000 for treatment. Fortunately, some users reported that after co-pay, the cost of treatment was $0.
J&Js (JNJ) Cosentyx (Stelara), which treats Plaque Psoriasis and Psoriatic Arthritis, costs $7,660 per injection. A six-dose treatment will cost nearly $46,000. From the 24 user reviews, the average rating is a solid 8.7. Patients with insurance may pay nothing.
Developed by Ely Lilly and Company (LLY), Taltz (ixekizumab) has a 7.5 rating from 36 reviews. The company said positive responses from patients with active psoriatic arthritis (PsA), after both a 24-week and 52-week treatment period. It is worth noting that the drug has many warnings and prec autions, including infections, and hypersensitivity to anaphylaxis.
Takeaway
Investors cannot ignore Valeants underperformance while the biotech sector rebounded in the last month.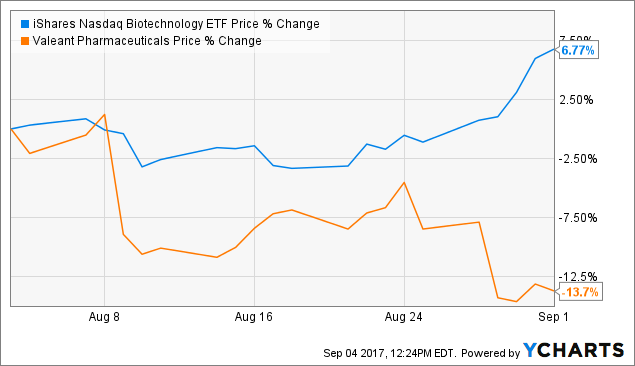 IBB data by YCharts
Led by Teva Pharmaceuticals (TEVA), generic drug manufacturers are out of favor. Teva undermined its income investors by cutting dividends and forecasting pricing pressure for generic drugs for this year. Prices could deteriorate from the low to mid-single digits this year to the high single digits in 2018.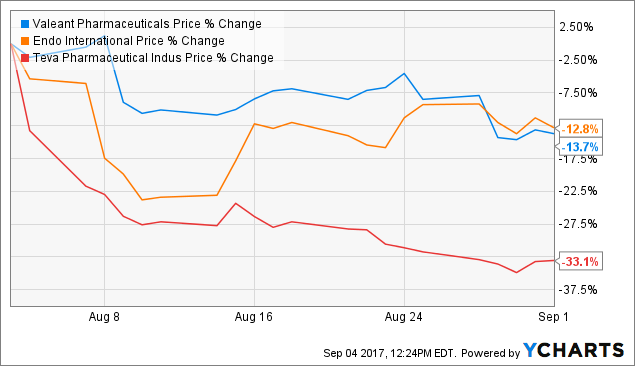 VRX data by YCharts
The weak outlook also hurt shares of Endo International (ENDP). Valeants B+L unit gives the company more diversification. The FDAs CRL (complete response letter) for Bousche + Lombs latanoprostene bunod ophthalmic solution 0.024% product, Vyzulta, is a positive development.
Valeants stock trades below a range of fair value calculations (between $13.50 – $22). If sentiment for generic drug suppliers reverses, VRX stock will rebound along that of Teva and Endo International.
Please [+]Follow me for continued coverage on biotech and pharmaceutical value stocks. Click on my name next to my avatar at the top of the article.
Disclosure: I/we have no positions in any stocks mentioned, and no plans to initiate any positions within the next 72 hours.
I wrote this article myself, and it expresses my own opinions. I am not receiving compensation for it (other than from Seeking Alpha). I have no business relationship with any company whose stock is mentioned in this article.
About this article:ExpandAuthor payment: $35 + $0.01/page view. Authors of PRO articles receive a minimum guaranteed payment of $150-500.Tagged: Investing Ideas, Long Ideas, Healthcare, Drug Delivery & Accessories, CanadaWant to share your opinion on this article? Add a comment.Disagree with this article? Submit your own.To report a factual error in this article, click here