GoPro Inc (NASDAQ:GPRO) stock has been on fire. The company reported preliminary third-quarter guidance that came in ahead of expectations and GPRO stock has taken off like a rocket ship.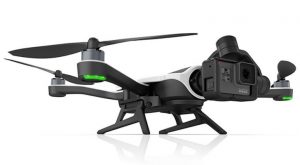 Source: GoPro
Over the past 5 days, GPRO stock is up some 27%, jumping more than 5% today in early morning trading.
But is this a rally worth chasing?
After all, the big pop is due almost exclusively to third-quarter guidance, which doesn't even take into account the company's all-important Holiday quarter.
Plus, it's not like the third-quarter guide now offers more upside than before. The revenue and gross margin ranges are still the same. Management just thinks they can come in at the high-end of those ranges.
So, should investors fade the GoPro stock rally?
I think so.
How Big Can GoPro Actually Be?
At the end of the day, the biggest problem with GPRO stock is that the company will never be that big.
Repeating on the success of fiscal 2015 when the company shipped a record 6.5 million cameras will be tough. Back then, GoPro was the coolest product on the market. The action camera market had just started to go mainstream. Naturally, the company benefited from a whole bunch of first-time buyers who bought GoPro cameras just to try them out.
But the dynamics for GPRO stock today are much, much different. Just look at search interest trends. Because of the novelty of the action camera market in late 2014/early 2015, the HERO4 launched to unprecedented fanfare.
But that novelty wore off.
By the same time next year, everyone pretty much knew what a GoPro camera was and what it could do (and what it couldn't do). So when the HERO5 launched, it did so to much less fanfare compared to the HERO4 (30% lower search interest during launch week).
Why will the HERO6 be any different? Or any subsequent cameras for that matter?
They won't. GoPro has found its market. It's niche, so GPRO stock isn't one that has 2-3x potential. But the market is also stable, so this is a stock that does have enduring value.
But what is that value?
Although 6.5 million camera shipments in a year seems unrealistic in the foreseeable future, it's likely that GPRO sells anywhere between 5 million and 6 million cameras per year over the next 5-plus years. That stable level of camera sales plus incremental drone revenue should allow revenues to grow around 10% per year over the next five years.
Gross margins should normalize and operating expenses should be levered as revenue scales. Given the focus on expense management, I don't think it's unrealistic for GPRO to have ~10% operating profit margins in five years. That is the normal operating profit level GoPro operated at in 2012 and 2013.
Next Page
So, overall, we are looking at sales of $1.9 billion and operating profits of about $190 million in five years. Slap a 34% tax rate on that and divide by about 136 million diluted shares, and I think GPRO can do about $0.90 in earnings-per-share in five years.
Bottom Line on GPRO Stock
So where is GoPro stock in five years?
Well, at that point, the best of GoPro's earnings growth will be behind it. If earnings do come in around $0.90 per share in five years, then growth from that base will be in the low- to mid-single-digit range. Low- to mid-single-digit growth will get a price-to-earnings multiple in the mid-teens range, at best.
Call it a 15-times multiple. A 15-times multiple on just over $0.90 implies a stock price in 5 years of about $14.
GPRO stock currently trades hands just under $11.50.
So that isn't much upside. In fact, it's about a 5% annualized return over the next five years. The market returns on average 7% per year.
That is how I look at GoPro stock. Is there upside? Yes. Is it worth parking your money here after this big rally? No.
So wait for this stock to pullback. I've always liked GPRO when it trades below $10.
As of this writing, Luke Lango did not hold a position in any of the aforementioned securities.